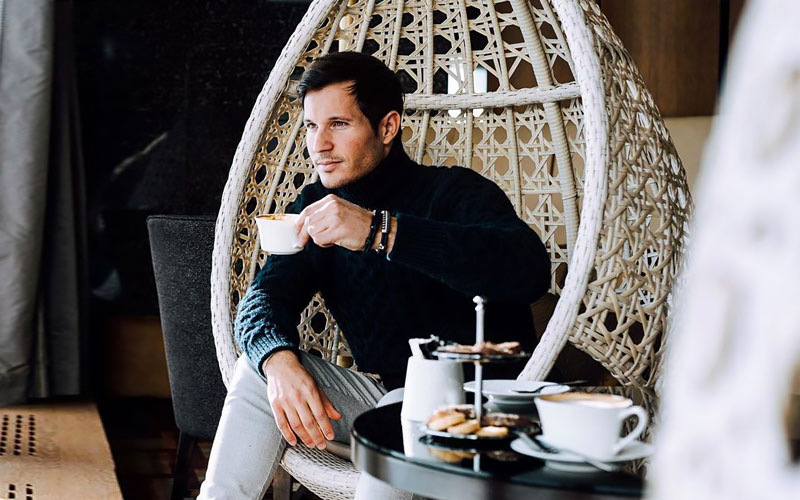 Filling out a sugar daddy profile is the key to success when looking for a sugar baby. In this article, you are going to find several attractive sugar daddy profile headlines and examples to help you on your journey!
How to write a sugar daddy profile?
Without further ado, let us share a short step-by-step instruction:
Describe the perfect sugar relationship that you want to have. Also, provide the information about the rules or principles you want your sugar baby to follow and emphasize that some of these rules are unbreakable and some can be discussed (if there are such rules.)
Provide information about your income. This is the first thing sugar babies usually check.
Consider the photos you upload on a dating website with sugar babies. They should be of a good quality as this is the first thing that shows your wealth and attitude to life in your profile. Also, don't post photos with other people—the whole focus should be on you! Additionally, some sites don't allow users to upload images that depict other individuals: it can result in banning of your account.
Don't copy other men's profiles. It can cause plenty of misunderstandings: you may want one thing, but you take an attractive description of another person who needs a completely different relationship. As a result, you will get not the sugar baby you really need.
Mention your unique hobbies and offer the babies to take them with you to try those hobbies: this can work just great, especially if you would like to meet an adventurous SB.
Sugar daddy profile headlines
Profile headlines are what make your profile stand out. A girl would see your photo and a headline among many other profiles, which is why you need to make it interesting, brief, and informative. In your headline, you need to state who you are, what you want and like, and what you can offer. Here are a few decent headlines for profiles found on EmilyDates:
"True friends are like diamonds—bright, beautiful, valuable and always in style.You come to love not by finding the perfect person, but by seeing an imperfect person perfectly. Please be my friend."—a great headline that allows one to understand what a person seeks and desires in relationships.
"Don't know how to write much about myself but life is an open book…., the more you read the more you get to understand"—allows a person to understand the attitude toward life.
"I'm a philanthropist zadddy, needed a sugar baby that I'll spoil with money"—simple, honest, and informative.
You can see that these headlines are unique and interesting. Some of them may not be as informative as they should be, but they at least stand out from the rest of generic phrases! and to have a clearer picture, here a few headlines that are poorly made:
"I am William John."—a name is not a headline
"That's me"—and it doesn't mean anything. A girl who sees such a headline wouldn't understand what it means!
"I'm a happy man with a gold heart"—if you are a happy man, why do you seek sugar relationships online?
Sugar daddy profile examples
What makes a great sugar daddy profile? Information! There should be said enough about you and your life for a sugar baby to learn and understand. Here are two variants for you to consider and take as examples of minimalistic, yet good sugar daddy profiles:
The first profile that was found on the SecretBeneifts website, and it allows one to understand what a decent profile should look like. The sugar daddy that owns this profile has a decent profile image that doesn't have anyone except the sugar daddy. Also, there are a few photos available to the public to see the lifestyle of a sugar daddy, which is always important. There is enough information—About me, personal data, recent activity, and general info are properly filled. A sugar baby can learn a lot without contacting this guy!
Here we have another profile. Here, the sugar daddy uploaded a few photos that allow you to see him in different scenarios, which is a great way to show different interests, hobbies, and lifestyles. The sugar daddy bio section is adequately filled, although there could be more information about the purposes of dating and personal information.
In general, SecretBeneifts has one of the best profile designs that allows you to provide a lot of useful information.
Sugar daddy about me section
When it comes to a sugar daddy bio, it's simple: it must be interesting, catchy, and fun. Here are the top 3 rules to create a perfect sugar daddy profile description:
Be well-cultured and intelligent. Mentioning your education (but not in a show-off way) might help, too. 
Avoid sexual language — if you have some special preferences, mentioning them might be a good filter, but talking about your fantasies right away is weird. 
Make it catchy — talk about things that can help a potential sugar baby to come up with a good ice-breaker.
Here is a great example of a sugar daddy bio: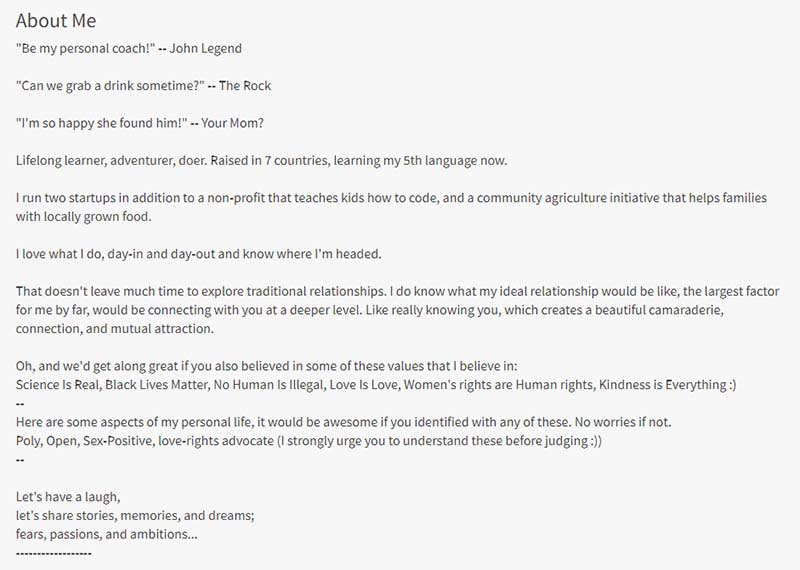 Sugar daddy profile picture examples
You shouldn't ignore the importance of the sugar daddy profile pictures. Yes, there are typically much more sugar babies than sugar daddies on sugar dating websites  — but your photos should still be great to attract the best sugar babies. 
And when we say "great", we mean that you need to follow these simple rules:
Choose a perfect main picture: high-contrasted, close up, and with you being the only subject in the frame. 
Include a few "hook" photos — the pictures that invite comments. 
Your hobbies, interests, your pets maybe — everything will work great. 
Here are two examples of a good sugar daddy profile photo:


You can also check out this one; it is a great visualisation of how you shouldn't fill out your personal page: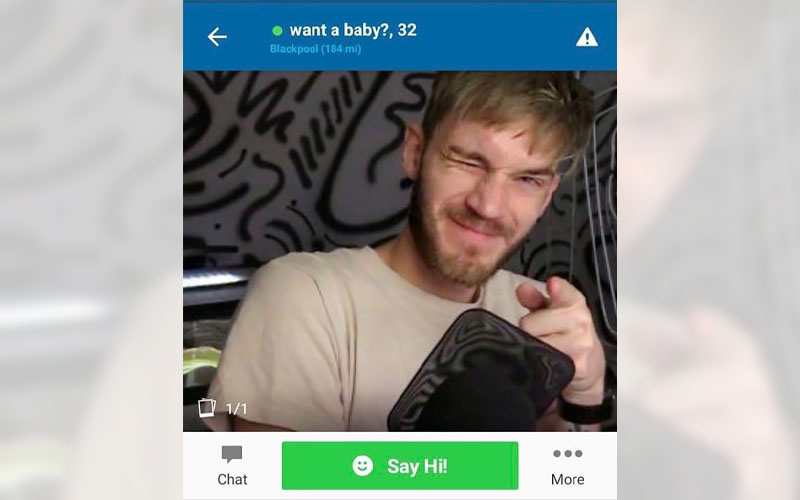 Conclusion
Now you know everything about a sugar daddy profile and how to have an informative and effective account!